Spirit of America Bookstore
"The Adventures of Huckleberry Finn"


1885 Novel & Movies Page
| | | |
| --- | --- | --- |
| &nbsp&nbsp&nbsp&nbsp&nbsp&nbsp&nbsp&nbsp&nbsp&nbsp&nbsp | synopsis & history | &nbsp&nbsp&nbsp&nbsp&nbsp&nbsp&nbsp&nbsp&nbsp&nbsp&nbsp |

"All right, then, I'll go to hell."

"Human beings can be awful cruel to one another."

"Hain't we got all the fools in town on our side? And hain't that a big enough majority in any town?"





Synopsis

&nbsp&nbsp&nbsp&nbsp&nbsp&nbsp&nbsp&nbsp&nbsp&nbsp Days after

History of The Book

&nbsp&nbsp&nbsp&nbsp&nbsp&nbsp&nbsp&nbsp&nbsp&nbsp Days after
---
The&nbsp Books
&nbsp
&nbsp
&nbsp "The Adventures of Huckleberry Finn"
by Mark Twain [1835-1910] with illustrations by E.W. Kemble [1861-1933]
first published by Chatto & Windus in the United Kingdom in December 1884
and by Charles L. Webster & Company in the United States in February 1885.
book entry at Wikipedia
Huckleberry 'Huck' Finn first appeared in the book "The Adventures of Tom Sawyer" [set around 1845, published in 1876] and is the protagonist and narrator of its sequel, "The Adventures of Huckleberry Finn" [set later, published in 1884]. Huck is 12 or 13 years old during the first book and 'thirteen or fourteen or along there' in the second. Huck also narrates two shorter sequels, "Tom Sawyer Abroad" [1894] and "Tom Sawyer, Detective" [1896]. The first and the latter two books will be detailed on an eventual Tom Sawyer Page; the unfinished work "Huck Finn and Tom Sawyer Among The Indians" [abandoned 1884, completed in 2003
by Lee Nelson] will be detailed on both.
¨&nbsp&nbsp&nbsp&nbsp&nbsp&nbsp&nbsp&nbsp&nbsp&nbsp&nbsp ¨
http://www.amazon.com/Classic-Starts-Adventures-Huckleberry-Finn/dp/1402724993/
rewritten with the intention of getting youngsters excited about reading books
The Original Edition
Other Editions
Kindle Editions
Sequels, Parodies, Etc.
unfinished work "Huck Finn and Tom Sawyer Among The Indians" [abandoned 1884, completed in 2003 by Lee Nelson]
http://www.amazon.com/Huck-Finn-Sawyer-Among-Indians/dp/1555176801/22
http://srjarchives.tripod.com/1997-03/chabot.htm
"The Adventures of Huckleberry Finn" [1973] a 'simplified version' by Robert James Dixson
"The Further Adventures of Huckleberry Finn" [1983] by Greg Matthews
continues Huck's adventures after he 'lights out for the Territory' at the end of the Mark Twain novel
"My Jim" [2005] by Nancy Rawles
a novel narrated largely by Sadie, Jim's enslaved wife
"Finn: A Novel" [2007] by Jon Clinch - a novel about Huck's father, Pap Finn
Critical Works
---
The&nbsp Author
Spirit of America Bookstore's
Mark Twain [1835-1910] Page
top of page • short profile • primary works • other works • plays, movies, other media
Kindle Editions • works about Mark Twain • image gallery • friends & family • links
Mark Twain Quotations Page at Working Minds Philosophy website
official Mark Twain™ website
Mark Twain entry at Wikipedia
Mark Twain credits [130+ writer credits since 1907] at Internet Movie Database
Mark Twain credits list [1895-2008] at Broadway Internet Database
---
Movies&nbsp&nbsp&amp&nbsp Television
credits list for character 'Huckleberry Finn' on Internet Movie Database
"Huck and Tom: or, The Further Adventures of Tom Sawyer"
silent feature [Famous Players-Lasky/Paramount March 1918]
&nbsp
Specifics of the plot are unknown (IMDB Plot Keywords provide no help); print status unknown. Filmed in Hannibal, Missouri; produced by Jesse L. Lasky; directed by William Desmond Taylor; scenario by Julia Crawford Ivers; starring Jack Pickford, Robert Gordon, George Hackathorne, Alice Marvin, Edythe Chapman, Frank Lanning, Clara Horton, Tom Bates, Helen Gilmore, Antrim Short, Jane Keckley & John Burton
VHS/DVD/Blu-ray not available • full credits at IMDb • movie entry at Wikipedia
movie poster/print available in 3 sizes from AllPosters.com
"Huckleberry Finn" color-tinted silent feature
[Paramount Pictures Feb 1920]
&nbsp
Much of the book is omitted (in five reels) but the important story elements remain: Huck escapes from his brutal father, travels with Tom Sawyer and down the river with the escaped slave Jim, chafes at living with the Widow Douglas, and meets the two rascals Duke & King. Produced & directed by William Desmond Taylor; scenario by Julia Crawford Ivers; starring Lewis Sargent, Gordon Griffith, Thelma Salter, George Reed, Katherine Griffith, Martha Mattox, Frank Lanning, Orral Humphrey, Tom Bates, Edythe Chapman, L.M. Wells, Harry L. Rattenberry & Esther Ralston
VHS/DVD/Blu-ray not available • full credits at IMDb • movie entry at Wikipedia
"Huckleberry Finn" [Paramount Pictures Aug 1931]
&nbsp
A year after the events in the "Tom Sawyer" movie, Huck chafes at living with the Widow Douglas, is kid-napped by his nasty father, and rescued by Tom and the slave Jim, then all three raft down the Mississippi and meet orphans Ella & Mary Jane. (The emphasis is on comedy, including Afro-American Jim's role.)
Directed by Norman Taurog; written by Grover Jones & William Slavens McNutt; starring Jackie Coogan, Junior Durkin, Mitzi Green, Clarence Muse, Eugene Pallette, Jackie Searl, Clara Blandick, Jane Darwell, Oscar Apfel, Warner Richmond, Charlotte Henry, Dora Short, Lillian Harmer & Guy Oliver
VHS/DVD/Blu-ray not available • full credits at IMDb • movie entry at Wikipedia
{faded} movie poster/print available in 3 sizes from AllPosters.com
"The Adventures of Huckleberry Finn" [M.G.M. Feb 1939] /tt0031020/
Directed by Richard Thorpe; starring Mickey Rooney, Rex Ingram, Walter Connolly & William Frawley
http://www.amazon.com/Adventures-William-Frawley-Ingram-Mickey/dp/B002EAYDM0/
http://www.amazon.com/Adventures-Huckleberry-Finn-VHS/dp/6301964268/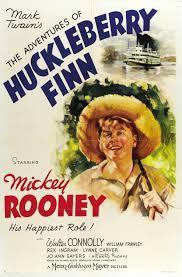 "The Adventures of Huckleberry Finn" episode [Sept 1953] /tt1226422/ of "Excursion"
hosted by Burgess Meredith; starring Clifford Tatum Jr., Eddie Albert, Thomas Mitchell & Sugar Ray Robinson
"The Adventures of Huckleberry Finn" TV movie [CBS-TV Sept 1955] /tt0046684/
http://www.amazon.com/Adventures-Huckleberry-Finn-Denise-Alexander/dp/B00JFVFZQY/
http://www.amazon.com/Adventures-Huckleberry-Finn-Mark-Twain/dp/B00551WSYK/
"Adventures of Huckleberry Finn" episode [Sept 1955] /tt0542619/ of the "Climax!" TV series [1954-58] /tt0046587/
"The United States Steel Hour" TV series [CBS-TV 1953-63] /tt0045449/
"The Adventures of Huckleberry Finn" episode [Nov 1957] /tt0737121/
"Aventuras de Tom Sawyer" TV series [Brasil 1958] /tt0288915/
"The Ballad of Huckleberry Finn" episode [CBS-TV 1960] /tt2242901/ of "The Robert Herridge Theater" TV series
"The Adventures of Huckleberry Finn" [M.G.M. June 1960] /tt0053571/
Directed by Michael Curtiz; starring Eddie Hodges, Archie Moore, Tony Randall & Buster Keaton
http://www.amazon.com/Adventures-Huckleberry-Finn-Tony-Randall/dp/B00009M9AH/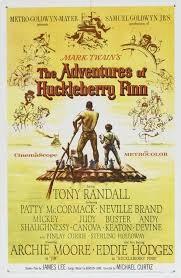 &nbsp&nbsp&nbsp&nbsp&nbsp&nbsp&nbsp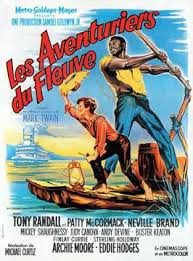 "Tom and Huck" episode [NBC-TV Oct 1960] /tt0699638/ of "Shirley Temple's Storybook" TV series
"Huckleberry Finn" TV movie [France Jan 1967] /tt0806986/
"Tom Sawyers & Huckleberry Finns Abenteuer" [Germany 1968] avail on Region 2 PAL
"The New Adventures of Huckleberry Finn" animated &frac12-hour TV series [Hanna-Barbera/NBC-TV 1968-69] /tt0062593/
"Aventuras de Huck" Spanish-language TV series [Mexico 1969] /tt0320832/
"The Adventures of Huckleberry Finn" aka "Sovsem Propashchiy" [Russia Aug 1973] /tt0123277/
http://www.amazon.com/Huck-Finn-aka-Hopelessly-Lost/dp/B0001I1EIS/
"Huckleberry Finn" musical feature film [M.G.M. April 1974] /tt0071634/
http://www.mgm.com/#/our-titles/921/Huckleberry-Finn
http://www.amazon.com/Huckleberry-Finn-Full-Screen-Jeff/dp/B0009U7LOE/
70s animated "Huck Finn" on DVD
http://www.amazon.com/Adventures-Huckleberry-Finn-Slim-Case/dp/B002TSZBDW/
http://www.amazon.com/Adventures-Sawyer-Huckleberry-Finn-Slim/dp/B000ULJTMY/
"Huckleberry Finn" TV movie [ABC-TV March 1975] /tt0073130/ starring Ron Howard (at age 20)
http://www.amazon.com/Huckleberry-Bonus-Materials-Merle-Haggard/dp/B008D1RDKS/
"Gentlemen, Boys (Páni Kluci)" [Czechoslovakia March 1976] /tt0138690/
"Huckleberry Finn and His Friends" 26-episode TV series [Canada 1980] /tt0078627/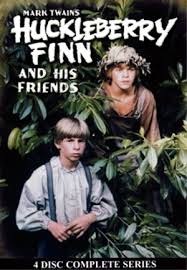 "Priklyucheniya Toma Soyera i Geklberri Finna" TV movie [Russia 1981] /tt0081917/
"The Adventures of Huckleberry Finn" TV movie [Taft/NBC-TV July 1981] /tt0081982/
http://www.amazon.com/Adventures-Huckleberry-Finn-Kurt-Ida/dp/B001HO35VO/
"Rascals and Robbers: The Secret Adventures of Tom Sawyer and Huck Finn" TV movie [CBS-TV Feb 1982] /tt0084570/
http://www.amazon.com/Rascals-Robbers-Secret-Adventures-Sawyer/dp/6301805445/
"Sawyer and Finn" TV movie [1983] /tt0122239/
"The Adventures of Huckleberry Finn" animated TV movie [Burbank Films Australia 1984] /tt0757856/
http://www.amazon.com/Adventures-Huckleberry-Finn-Simon-Hinton/dp/B000CSUNMU/
http://www.amazon.com/The-Adventures-of-Huckleberry-Finn/dp/B00AWR1O2Y/
"The Adventures of Mark Twain" Claymation [Will Vinton Prodns March 1985] /tt0088678/
"Adventures of Huckleberry Finn" 4-part TV movie [Feb 1986] /tt0088677/ on TV series "American Playhouse"
a 213 minute NTSC format DVD version was released 2/20/2007 by Monterey Video
http://www.amazon.com/Adventures-Huckleberry-Finn-Jim-Dale/dp/B000N4SAAA/
a 105-minute movie & video version was edited from the 240-minute original but has disappeared
"Back To Hannibal: The Return of Tom Sawyer and Huckleberry Finn" TV movie [Disney Oct 1990] /tt0099087/
http://www.amazon.com/Back-Hannibal-Return-Sawyer-Huckleberry/dp/B0071PT9PY/
"The Adventures of Huck Finn" [Disney April 1993] /tt0106223/ filmed in Mississippi, starring Elijah Wood
http://www.amazon.com/Adventures-Huck-Finn-Elijah-Wood/dp/B00005TPMM/
"Huck and The King of Hearts" video [Trimark/LionsGate Feb 1994] /tt0107164/ set in 1990s
"Tom and Huck" [Disney Dec 1995] /tt0112302/ filmed in Alabama
"Great Books: Huck Finn" [Discovery Channel School 1996]
http://www.amazon.com/Huck-Finn-VHS-Great-Books/dp/6304296886/
http://www.amazon.com/Great-Books-Huck-Finn/dp/B0009DU0O4/
"The Adventures of Huckleberry Finn" animated TV special [Simitar Ent. 1997] /tt1997552/
http://www.amazon.com/Huckleberry-Finn-Good-Housekeeping-Kids/dp/6304725124/
http://www.amazon.com/Tom-Sawyer-Animated/dp/B000MM365C/
"Born To Trouble: Adventures of Huckleberry Finn" documentary [PBS/WGBH Jan 2000] /tt0310789/
"Tom und Hacke" [Germany 8/2012] /tt2200376/
"Huck Finn and The Five Boons" color short [indep Nov 2012] /tt2088792/
"Die Abenteuer des Huck Finn" [Germany 12/2012] /tt2081266/
"Tom Sawyer & Huckleberry Finn" [DUE 2014] /tt1977087/ with Val Kilmer
---
Stageplays,&nbsp Other Media
Mark Twain credits list [1895-2008] at Broadway Internet Database
®&nbsp&nbsp&nbsp&nbsp&nbsp&nbsp&nbsp&nbsp&nbsp&nbsp ®
"Downriver" Off-Broadway musical [1975]
&nbsp
Presented off-Broadway in January 1975; book by Jeff
Tambournino; music & lyrics by John Braden [1946-87]
there seems to be a playscript book and-or vinyl record credited to
John Braden, Richard Dunne & Jeff Waxman but details are difficult
to find (nothing on Amazon, at any rate)
®&nbsp&nbsp&nbsp&nbsp&nbsp&nbsp&nbsp&nbsp&nbsp&nbsp ®

"Big River" Broadway musical [1985]
The original show ran for 1,027 performances from April 1985 to September 1987; book by William Hauptman; music & lyrics by Roger Miller;
staged/directed by Des McAnuff; choreographed by Janet Watson; starring Daniel H. Jenkins {as Huck}, John Short {as Tom}, Ron Richardson {as Jim}, Gordon Connell {as Mark Twain}, René Auberjonois, John Goodman, Bob Gunton, Evalyn Baron, Michael Brian, Susan Browning, Ralph Byers, Patti Cohenour,
Aramis Estevez & Peggy Harmon; won seven Tony Awards for: Best Musical, Best Book of a Musical, Best Original Score, Best Actor in a Musical (RR),
Best Direction of a Musical, Best Scenic Design & Best Lighting Design; won nine Drama Desk Awards
credits for original Broadway production [1985-87] • "Big River" entry at Wikipedia


received a Tony Honors Special Award
credits for Broadway revival production [2003]
---
"The Adventures of Huckleberry Finn" unabridged book on DVD [2008]
includes 'dramatized narration' by Dick Hill, with on-screen displays of the text 'so that your children, friends & family can read along,
or simply listen'; with over 160 Illustrations by Edward Kemble from the 1885 edition
DVDbookshelf color DVD [1/2008] for $11.66
---
Image&nbsp Gallery
Mark Twain Posters category at AllPosters.com
poster of the 1885 book cover as drawn by E.W. Kemble {as at top of page}
poster or giclée print available in 6 sizes from AllPosters.com
---
L i n k s
Spirit of America Bookstore's Mark Twain [1835-1910] Page
Mark Twain Quotations Page at Working Minds Philosophy website
Mark Twain Posters category at AllPosters.com
1926 Tom Sawyer & Huck Finn Statue in Hannibal, Missouri
http://cdm.sos.mo.gov/cdm/ref/collection/msaphotos/id/2040
http://twain.lib.virginia.edu/huckfinn/huchompg.html
---
See also these Book & Movies Pages:
Spirit of America Bookstore's "The Adventures of Huckleberry Finn" Novel & Movies Page &nbsp «« you are here
"Aesop's Fables" Stories, Books, Stageplays & Movies Page
"Alice In Wonderland" Books, Stageplays & Movies Page
"Animal Farm" Novel & Movies Page
"Atlas Shrugged" Novel and Movies Page at Maison d'Être Philosophy Bookstore
"Ben-Hur" Novel & Movies Page
"The Boxcar Children" Books & Movies Page at BlackHat Mystery Bookstore
"Dune" Novels & Movies Page
"Game of Thrones" Novels & TV Page
"Gone With The Wind" Novel & Movie Page
"The Grapes of Wrath" Novel & Movie Page
"The Great Gatsby" Novel & Movies Page
"Ivanhoe" Novel & Movies Page
Kipling's "The Jungle Books" Stories & Movies Page
"The Last Tycoon" 1941/1993 Novel & Movies Page
"The Little Prince (Le Petit Prince)" Novel & Movies Page
"The Maltese Falcon" Novel & Movies Page at BlackHat Mystery Bookstore
"Nineteen Eighty-Four (1 9 8 4)" Novel & Movies Page
"Peter Pan" Books, Stageplays & Movies Page
"Rudolph The Red-Nosed Reindeer" Books & Movies Page
'Tarzan' Movies & Fiction Pages
'The Thin Man' Movies Page at BlackHat Mystery Bookstore
"To Kill A Mockingbird" Novel & Movie Page
'Tom Swift' Books Series Page
"Treasure Island" Books & Movies Page
'Uncle Remus' Tales by Joel Chandler Harris
"Winnie The Pooh" Books & Movies Page
˜&nbsp&nbsp&nbsp&nbsp&nbsp&nbsp&nbsp&nbsp&nbsp&nbsp&nbsp&nbsp&nbsp&nbsp&nbsp&nbsp&nbsp&nbsp ˜
Online sales in association with&nbsp
top of this page&nbsp&nbsp |&nbsp&nbsp back to Spirit of America Bookstore homepage